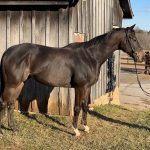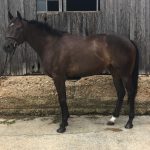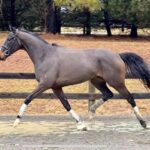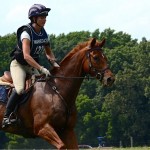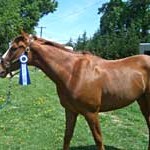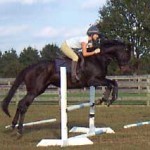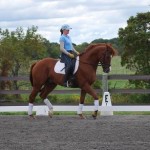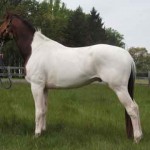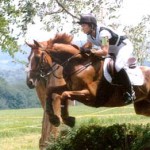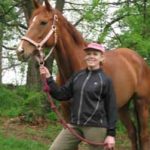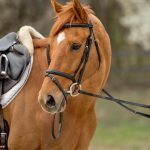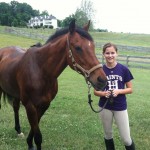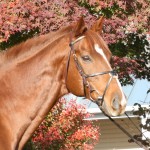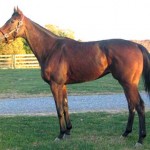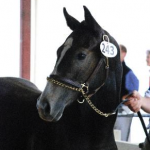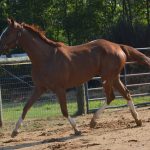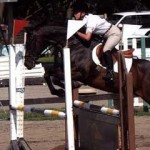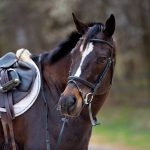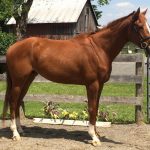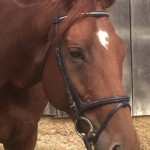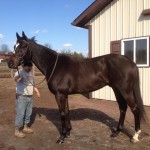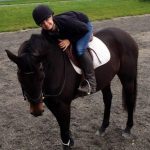 Congrats to Our Happy Customers
I bought Cooper from Kelley in 2017. I rode with Kelley before moving from Maryland to Iowa, and when I started looking for a new horse Kelley was one of the first people on my list. She is one of the best judges of potential in horses that I know so I was excited to look at Cooper. Kelley made the whole process incredibly easy, from accommodating my flying in to try Cooper, to asking to ride again first thing in the morning the next day, to my indecision as to whether I REALLY wanted that four-year-old! She worked with me to schedule my former veterinarian for a pre-purchase and willingly went through the most slow-motion purchase ever. And after that, she was patient for the three weeks it took to get Cooper off her farm and shipped halfway across the country. Purchasing Cooper was one of the best decisions I've made and we've been so happy with him. I would look to Kelley for my next horse in a heartbeat!
Karen Lampe on the purchase of Bourbon Blues ("Cooper")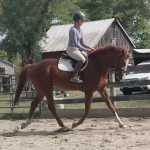 Kelley was amazing to work with and very professional. She was very quick with her responses and still continues to enjoy updates about Flynn, as well as my previous purchase California Girl ("Jackie"). I would highly recommend working with her to find your next prospect!
Jen Cobb on the purchase of Greeley's Dude ("Flynn")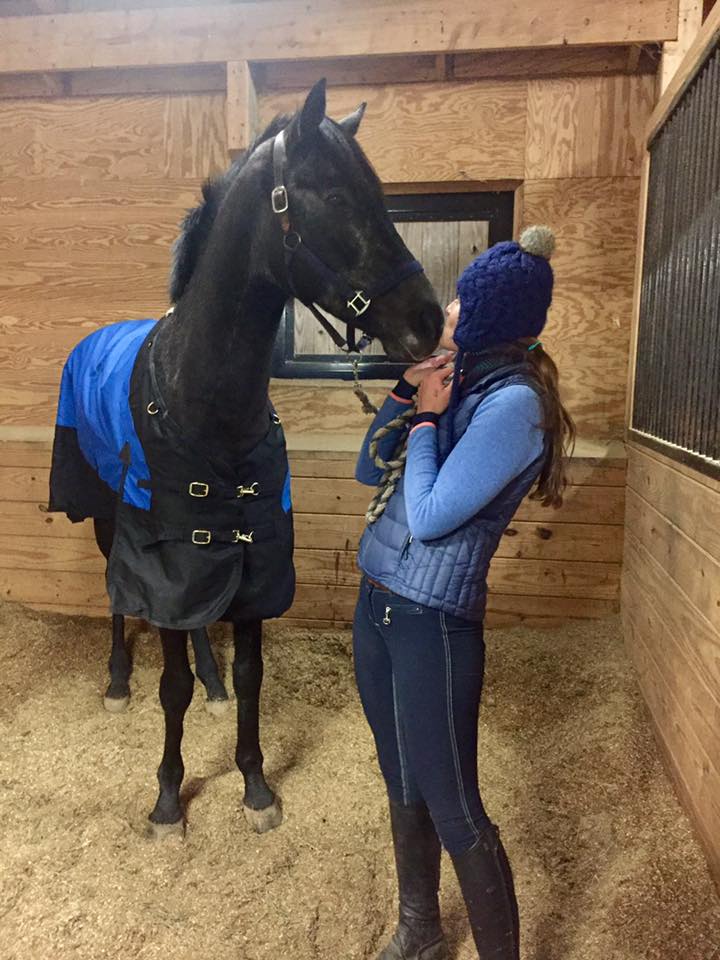 I bought Celoso, aka Jelly, from Kelley in November 2017. Kelley was such an awesome person to work with through the whole process! She demonstrates special care for her horses and their well-being, which has given Jelly a great start in the sport of eventing. She was very honest and open about the horse and accommodating during my trial rides and the vetting. Her number one goal is clearly to find the best match for the horse. I am in love with this special horse already and I'm excited about our future! Big thanks to Kelley and her team for making this a wonderful experience!
Erika Stephens on the purchase of Celoso ("Jelly")
We bought Vinny from Kelley about seven months ago for my fifteen-year-old daughter, Maria. Our Trainer, Lauren Oyarzo, has been working with Maria and her horse, Buster, for many years. And now they felt it was time to retire Buster and look for a new horse. This was not an easy decision for us and I really didn't think we would be able to find a horse that could replace Buster. We went on many road trips looking for a horse that would be a good fit for Maria. Lauren had known Kelley for many years and knew she was a good trainer and had some quality horses. So, we went to meet Kelley and Vinny at ABBF. Kelley had Vinny in the cross ties when we arrived. While brushing and tacking Vinny up she would share little details about him. Vinny was a four-year-old OTTB. She told me about his past and that he only ran one race, his X-Rays were clean and some other details. She shared how good he was when clipping him but he wasn't fond of pulling his mane. All these little tidbits got us to know Vinny a little better before even getting on him. We took him to the ring and Kelley rode him first. She started with getting him warmed up and then getting him into a frame. While she was riding, she would explain the techniques that worked for Vinny and what needed to be worked on. She did the same while jumping him. So, when Maria got on Vinny she knew a little about him. It was a wonderful experience. Most of all, you could tell she put a lot of time and hard work into training Vinny. She was honest, she didn't want to just sell Vinny to anyone. She wanted it to be a good match for the rider and the horse. I felt very comfortable with Kelley. I didn't feel rushed or pushed into buying him. We came back several times before buying Vinny. Each time we came, Kelley would give us her full attention. She just didn't want to sell a horse, she wanted to make sure Maria and Vinny were compatible and they would be a good team. When she came to drop him off, you could tell that Kelley put her heart and soul into training Vinny and she truly loved this horse that she was passing on to us. Since getting Vinny, I have touched base with Kelley several times and she would give us advice and help us if needed. Kelley was very prompt in getting back to me and I never felt I was bothering her with all my questions. She has even contacted me on occasion and asked about Vinny and Maria's progress. Buying Vinny was a wonderful experience and I feel that we are part of their barn family now. I have had some of her boarders and neighbors stop us and ask "Is that Vinny? Boy he looks good!" Kelley, I can't thank you enough! And by the way, his new show name is "Italian Ice."
Maria Migliore on the purchase of Vinny Gets Revenge ("Vinny")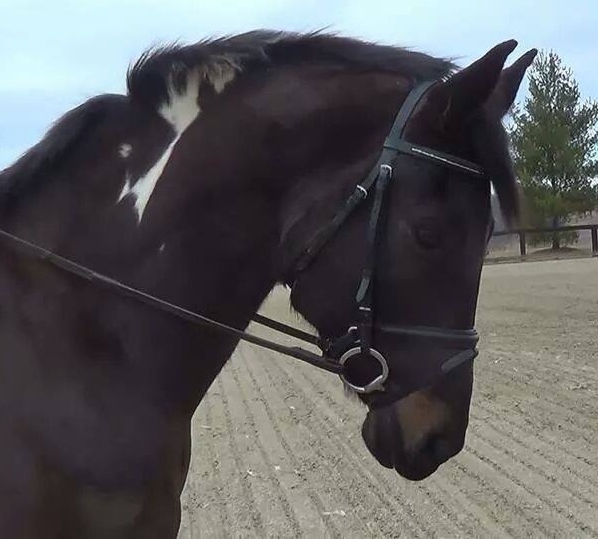 I can't say enough good things about Kelley and what a great experience she provided me in my recent purchase of Skyliner! She took the time to listen to my story and what I was looking for to make sure we were a really good match. She was forthcoming and honest with every detail. Her team at the barn, her family, and her boarders are all absolutely lovely – they were all so supportive and friendly!! I am pleased to say that Sky is in his new home and has settled in quickly. I would highly recommend working with Kelley in purchasing a new horse, her professionalism truly stands out!
Melissa Shuman on the purchase of Skyliner ("Sky")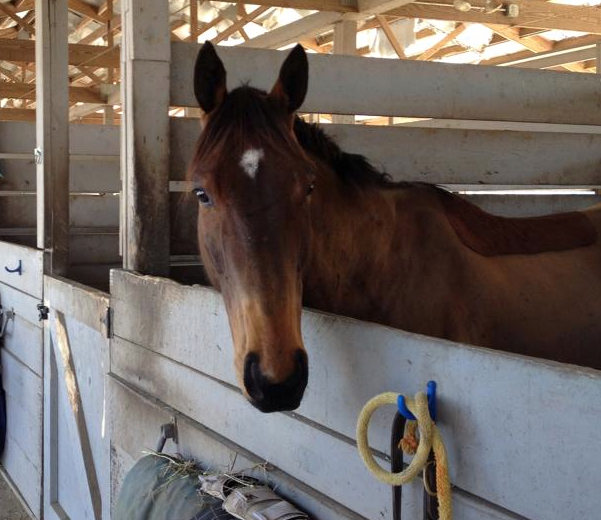 He going really well and I'm just spending some time getting to know him under saddle, he is so sweet and I really love him! He loves a snuggle and is so curious of everything. I love riding him and don't want to get off! I'm very lucky. We get along really well and I'm very excited about our future together. I'm looking forward to getting out and about competing.
Rhiannon Bosma on the purchase of Luke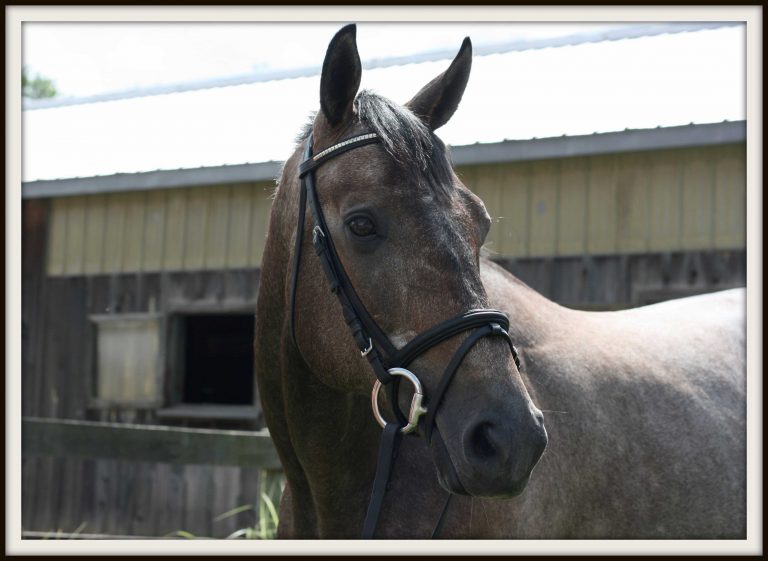 Purchasing Po from Kelley was one of the best decisions I've ever made! Not only did she make the process incredibly easy and convenient, she was always so professional and honest about Po's abilities and history. I have never ridden a horse that I have clicked so well with, and I owe Kelley huge for recognizing what an awesome pair we could be together. Everyone at A Bit Better Farm is so nice and welcoming, I never felt pressured to purchase Po, and was encouraged to come back numerous times to try him. What really sets these wonderful people apart is how generous they can be. Not even 24 hours after I had purchased and signed for Po, did he suffer a semi-serious injury while out in the field. The timing was horrible due to traveling for the holidays, and on top of living two hours away from Kelley's farm, I had no idea how I was going to manage it. Kelley and her assistant trainer Kim were AMAZING! They immediately volunteered to take care of Po while I was out of town, and gave him the best veterinary care possible (which included numerous wrappings in freezing weather, IV antibiotics, and a vet visit on Christmas Eve!). To say I was blown away by these acts of kindness was an understatement! So many people would have said, "sorry about your luck," but not the people at A Bit Better Farm! Even after my initial discovery of the injury, Kelley was incredibly supportive, and even cared enough to be so sweet as to offer me a ride on one of her horses to cheer me up. I can still hear her say, "You want to ride a horse? Let's get you on a horse!" I was so touched by that! This is a one-of-a-kind place, with one-of-a-kind people, that can truly be hard to find in the horse world! Two months later I am very happy to report that my little Po has made a full recovery, and we are looking forward to dominating some unrecognized events in the spring, and competing in our first recognized horse trail (fingers crossed!) in the fall. Every day that I ride him is an affirmation of the good decision I made, and the wonderful start he had off the track under Kelley's expertise. I cannot express enough how thankful I am for having met such wonderful people at A Bit Better Farm, and I will continue to sing their praises everywhere I go!
Hillary Marnane on the purchase of Diablo Guapo ("Po")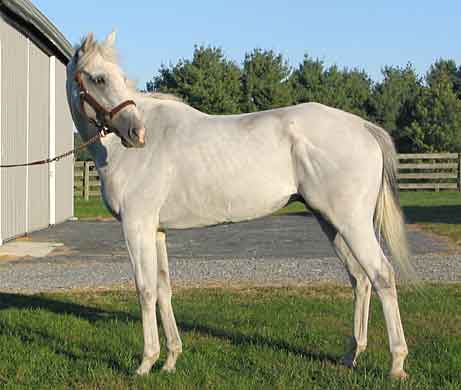 I purchased "Smoke" (Four Alarmer) – a fairly successful racehorse. Smoke is quirky, intelligent, and a lovely mover. I have very little experience retraining OTTB, so I was very nervous about the prospect. Kelley was very patient with me and really wanted both the horse and me to get along. She encouraged me to ride him several times and even allowed me to bring my own trainer. I was always treated respectfully. When I decided to purchase Smoke, I felt welcomed as if I was part of the family. Kelley Williams and Pat Mansfield were so easy to work with. I never felt rushed to look at and ride the horses. Both took the time to tell me about the horses, ride them and even allowed me to ride several times. I think their prices are reasonable, as well – so many professionals inflate the price of a horse based on "potential" that can be attained easily by a pro, but not so for many of us amateurs. I felt I was paying for the horse as he is that day, not for what he could be (who has a crystal ball?). Kelley's easy-going style shouldn't fool you. She cares for the training and development of the horses and wants the horses to be placed in good homes. She can help you make a decision based on the horse's personality and your abilities and ambitions. She was honest about the horses that I looked at, including pointing out a few horses that she felt were not right for me.
Lara Fields on the purchase of Four Alarmer ("Smoke")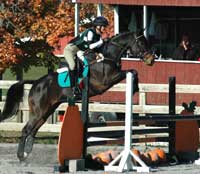 I started riding with Kelley when I was interested in moving up to Preliminary after having successful 3rd place finish at the Waredaca 3-Day. Unfortunately, Decker and I never made it to that point. I had to put him down this past June from a joint infection in his left hock. I had never had a connection with a horse like that, and I thought I would never be able to find it again. Thankfully I have several other horses to keep me going, and with the help of Kelley and A Bit Better Farm it has helped me with my grieving process. Though Decker will never be replaced. I had the wonderful opportunity to purchase another eventing horse. Kelley helped put me on quest to find another horse. Kelley has an enormous amount of experience when it comes to horses, and I trusted her to help me find a horse that was right for me. After viewing a few horses with me, and riding some. We ended up back at her farm to look at Cole, a stunning dark bay thoroughbred that Kelley bought off the track as a 3-year-old. She has such a knack for looking at the potential of a horse. I had seen Cole in work several times, and was debating whether he would be too much like my other horse Briley. There was so much of a dramatic difference between Decker and Briley that it kept me on my toes. Kelley was so generous about showing Cole to me. I never felt that I was being pushed into something that I was uncomfortable with, or that she wasn't looking out for my best interest. The good thing with looking at Cole was that Kelley already knew how I rode, and that she took that into account when she thought of Cole as a possible match for me. Without any reservations I tried Cole, and boy was I thrilled. I have never sat on a horse that jumps as well as he does. I was absolutely blown away. I had watched him jump before, but that didn't do him justice. He has so many wonderful qualities about him, and his personality is to die for. I am so blessed that Kelley thought of me as a possible match for Cole. I now have another addition to my family, and I am forever in debt to thanking her for finding me my perfect match.
Kristen Parris on the purchase of Collection Pass ("Cole")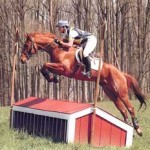 Since leaving A Bit Better Farm, Stewie has found his way onto the jumper circuit with Grand Prix rider Laura Chapot. He is currently competing in the Level 7 jumper classes!
Mary Chapot on the purchase of Redford ("Stewie")
I can't say enough good things about the wonderful little chestnut you found for me. Neo has made 2005 a year to remember … the glowing comments from riders, trainers, and judges. 'He's a real find.' 'That's the classiest trot I've seen in a long time.' THANK YOU, THANK YOU, THANK YOU for the horse of a lifetime. May all the merry horses at A Bit Better Farm find their partners!
Kelly Rappuchi on the purchase of Urgent Matter ("Neo")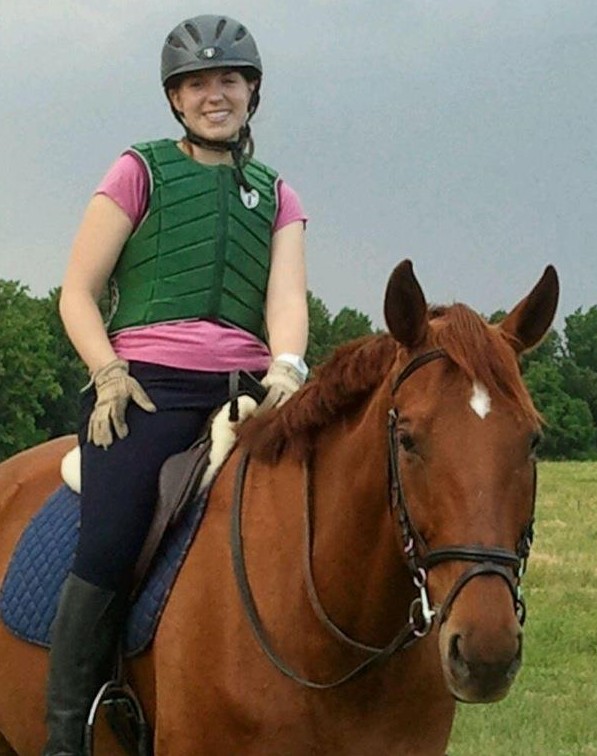 I absolutely adore Ringo and want to thank Kelley for finding me my dream horse. He's truly a love, and I can honestly say that he makes me smile every day. Kelley has a wonderful ability to assess both the horse and rider for an ideal partnership. As a result, I'm a better and more confident rider. She's extremely honest, fair, and professional. I would highly recommend her both as a trainer and seller. I have nothing but years of positive experiences with Kelley and her wonderful family, and I'm so happy to be part of the ABBF family!
Katie White on the purchase of Tejano Count ("Ringo")